2365 East Napoleon Street
Sulphur, LA 70663
Phone: (337)625-9020
The Sabine River Diversion System was created by Act's 90 and 117 of the 1970 Legislature as part of the program for utilization of the waters impounded in Toledo Bend Reservoir, for the purpose of transporting and delivering fresh raw water from the Sabine River to the various industries located in the Lake Charles industrial area, and for furnishing water for the municipal use and the irrigation requirements of farms located along the route.
The system consist of 35.2 miles of unlined, open channel canals; 4.42 miles of underground cement coated steel pipelines; five (5) constant level downstream control gates, and the following three (3) pumping stations:
1) Pump Station Number 1 is located on Old (Sabine) River approximately four miles south of Starks, and consist of three pumps at 50,000 g.p.m. each
2) Pump Station Number 3 is located on Eighth Avenue in the Mossville area, and consists of two pumps at 20,700 g.p.m. each
3) Pump Station Number 4 is located just north of the Ci-con Refinery, and consist of two pumps at 19,500 g.p.m. each.
The system is designed to operate automatically. As water is removed from the lower reaches of the system, the constant level downstream control gates open bringing in water from the upper reaches. When the level in the initial reach is lowered, the pumps in Pump Station 1 are activated to lift additional water from Old River to replenish the system.
The SRD system has been tremendously successful in slowing the depletion of the ground water reserves in the Chicot Aquifer, thus enabling continued growth of Industry, Agriculture, and Municipal use in Southwest Louisiana.
In recent years, nearly 20 billion gallons of diverted water has been pumped through the SRD system each year, primarily for Industrial use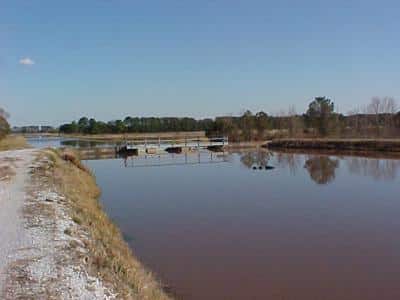 The SRD System is a water conveyance system consisting of more than 35 miles of unlined, open channel canals, nearly 4½ miles of underground pipelines, three (3) pumping stations, and five (5) automatic level control gates. Water from the Sabine River gravity flows from the River for approximately 2 miles to pump station one (1).
The purpose of the SRD System is to divert surface water from the Sabine River to supply Agricultural, Municipal, and Industrial water needs in Southwest Louisiana, and reduce Southwest Louisiana's dependence on the Chicot Aquifer.


Name

Title

Phone

Email

Mike Carr

Facility Maintenance Manager

(337) 256-4112

mike.carr@la.gov

Matt Istre

Electrician

(337) 625-9020

matthew.istre@la.gov

Rodney Johnson

Levee Foreman

(337) 625-9020

rodney.johnson

@la.gov

Arlin Levy

Electrician Specialist

(337) 625-9020

Ronald Mitchell

Electrician

(337) 625-9020

ronald.mitchell@la.gov